"Uber and Lyft are caught in a perfect storm of China-trade related market choppiness, combined with worries around no profitability in sight, and a valuation knife-fight between the bulls and the bears." —Daniel Ives, Wedbush Analyst
"They just waited too long. There's nothing exciting about it. I don't think you could have expected anything different … the reality is you're nine years in and you're still having to buy your revenue. That's not a good sign." —Mark Cuban, American businessman
It's been a bumpy ride for Lyft and Uber as they enter the public markets. Uber is now down 20% from its offer price and Lyft has fallen even more since its IPO. The question is if the weakness in these offerings is fundamental to the long term viability of their respective businesses or if these stocks are caught up in broader volatility and negative market sentiment. Both companies are a long way from being consistently profitable and these are very uncertain times. A trusted Turtle Garage friend, subscriber, and mentor recently said regarding the state of financial markets, "I don't know about the timing, but the list of things that could go wrong is long. And markets have been priced to perfection. Semper Paratus! Be ready."
REPOSTED FROM BLOOMBERG MAY 13TH 2019: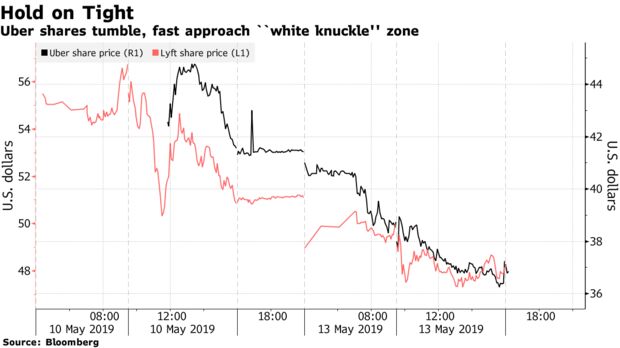 While there are plenty of skeptics when it comes to the ride-hailing and ride-sharing economy, the broader market sell-off amid escalating trade tensions between U.S. and China is also weighing further on the valuation of the two companies. Uber CEO Dara Khosrowshahi told staff on Monday that it was "another tough day in the market," and warned of a weak showing.
Read more: Uber CEO Warns Staff to Gird for Months of 'Tough Public Market'
"Uber and Lyft are caught in a perfect storm of China-trade related market choppiness, combined with worries around no profitability in sight, and a valuation knife-fight between the bulls and the bears," Wedbush's Ives said, noting that Uber's IPO was initially expected to be a positive catalyst for Lyft. "Once it ultimately became the opposite, it became a field day for the shorts," he said.
The staggering proportion of bearish bets in Lyft has already become a cause of concern for investors. The stock currently has nearly 62% of its free float held short, according to S3 Partners.
Read more: Lyft's Hedge Fund Bulls Hold the Keys to Massive Short Selling
Falling to $35 would mean a more than 22% discount to Uber's IPO price of $45. The stock was seeing heavy trading on its second session as a public company. According to Bloomberg data, the total value of Uber shares traded on Monday was $2.8 billion, surpassed only by behemoths such as Apple, Amazon, Microsoft and Facebook.
For more on Uber's IPO, check out the Decrypted  podcast: