"The M1 is the absolute pinnacle of hyperfast street cars. Its overdoses of power and handling and responsiveness are suitably tempered by com­fortable accommodation and a civilized ride. If a gentled-down race car can be made this good, then all the other ultracar builders are going about it from the wrong end." —Csaba Csere, Car and Driver, 1981
"The E26 M1 is a normal car, but normal at a higher speed than other cars."—Jochen Neerpasch, the "father" of the M1
During the Holiday Season, we reflect on the many things to be grateful for in this life. Foremost, I have gratitude for my family, my friends, and my health. As I reflect on the past year, I am also supremely grateful for my hour of seat time behind the wheel of a fully-sorted BMW M1. As a right of passage, every true car enthusiast should have cockpit time in this legendary and rare supercar. The M1 was the right car at the wrong time, and today its considered one of the most important post-war BMW's ever produced.
A Brief History of the M1:
The plans for a mid-engined BMW date back to 1972. The original idea for the M1 called for a homologation mid-engined car constructed in partnership with Lamborghini. In 1981, Car and Driver summarized the M1's evolution as follows:
Lamborghini's imminent bankruptcy finally forced BMW to cancel its contract on April 20, 1978. Under a new plan, Marchese would build the car's tube frame, TIR would mold the fiberglass, and then Ital Design would mate the two and install the interior. The cars would then be shipped from Italy to Stuttgart, where Baur, long a builder of BMW production prototypes, would in­stall the BMW hardware. BMW Motor­sports would do the final preparation in Munich—in fact, the car would carry a BMW Motorsports manufacturing plate.
The M1 was hand-built for a production race series known as the Manufactur­ers Championship—the series ultimately fizzled, and the M1 became an orphan race car with no future. Giugiaro penned the M1's exceptional design. The M1 was manufactured from 1978 to 1981, and 399 street legal examples were produced—another 54 were widebody ProCars with significant upgrades in power, braking, and suspension. In total, only 453 M1's were manufactured. To the outside world, the M1 was a futuristic supercar statement like no other. Inside BMW, the M1 was considered a failure. The costs and complexities behind its development were massive and unsustainable. When the car finally went into production, its racing category was unclear at best. In 1981 (when BMW decided to cut costs) M1 project leader Jochen Neerpasch was sacked, and production ended.
Enthusiast Auto Group: 
In November, I paid a visit to Enthusiast Auto Group (EAG) in Cincinnati Ohio. Over the years, I have become friends with EAG's founder (and owner) Eric Keller. Eric is a real car enthusiast, and he is obsessed with BMW M cars. He has built an empire that caters to the discerning M enthusiast. His inventory and knowledge are second to none, and Eric only sells the best. He has created a team of like-minded individuals that put service and quality above all else—including profits. I have bought two cars from EAG over the years and can attest to their quality standards and attention to detail. A few weeks ago Turtle Garage did a story on EAG, and you can read that post here. In 2016, we also did an interview with Eric which can be accessed here. It was during this recent tirp to EAG that I got to drive Eric's Sport Evolution E30 M3 and his M1.
M1 Driving Impressions: Powerful, Modern, Civilized, Balanced, and Analog
After tossing EAG's Sport Evolution E30 M3 around the rural back roads of Cincinnati, Eric generously offered up a test drive in his M1. As Tom Cruise said in the cult classic film Risky Business, "who was I to say no?" Most owners of M1's are very cautious about actually putting miles on these ultra-rare supercars. Adding digits to an M1 clock is akin to draining precious drops from a bottle of 1982 Château Haut-Brion. The invitation to spend so much seat time behind the wheel was an opportunity that became the experience of a lifetime. My test drive was further enhanced because the guys at EAG are fanatical about thoroughly sorting their cars—this M1 performed like a new car.
The M1 brings new meaning to the term low-slung. The first thing you notice about the car is its height—or lack thereof. Standing less than 45 inches high, spanning about 72 inches in width, the car shares proportions with a Bavarian pancake. Just as a great white shark will never be mistaken for a nurse shark, the M1 will never be confused with anything else from BMW. The car is uniquely its own—its angular, wide, and flat. It looks stuck to the road just sitting idling in the parking lot. At over forty years old, the M1 still looks incredibly modern.
Upon getting situated in the driver's seat, you can't help but notice the bouquet—the interior aroma is a fantastic musty combination of plastic, leather, grease, oil and time. The interior is modern but all business. Long vertical slats provide heat and a/c adjustment. Two big gauges sit neatly between the top arc of the steering wheel. The RPM gauge and the speedometer longingly stare at you—almost like they are daring you to plant your foot fully into the M1.  The interior is spartan but somehow paradoxically maintains a sense of luxury and comfort. There are swatches of black leather on the door panels, and dashboard and the seats are upholstered in a dull grey durable cloth. The chairs are supportive if not downright comfortable. The pedals are so offset that they lie almost in the center of the car. My size 12 foot had to find its way through the floor tunnel and snake their way to the gas pedal.
Upon startup, you realize that the M1 is civilized, sophisticated, and modern. In 1980, this car must have been a Buck Rogers leap into the future. The engine cranked right over and immediately settled into to a soft idle. The motor was quiet, harmonious, and smooth. I dropped the M1 into first gear, and a soft "click" followed—I slowly released the easy clutch. I was overwhelmed by the modernity of the car—no lurching or bouncing, the M1 just effortlessly rolled forward.
On the road its hard to reconcile the fact that the M1 is over forty years old and has a six-cylinder engine. Let's put this in perspective: The M1 is powered by a 24-valve 3.5 liter six that produces "only" 277 horsepower—it can reach sixty miles per hour in 5.4 seconds and feels ultra fast. In an era where a Toyota Camry can be optioned with 301 horsepower, it's hard to imagine the excitement that the M1 still delivers in 2018. Given today's twelve cylinder electric-assisted supercar beasts, the M1 should (on paper) elicit moribund feelings or even outright boredom. Here Miles Collier's adage "its a lot more fun to drive a slow car fast than a fast car slow" rings true. However, the M1 is blazingly fast when you want it to be. What is impressive about the M1 is not its paper statistics or raw horsepower. This car is so refined that the experience of actually driving it far overshadows the conventional metrics of power, torque, and acceleration. I have never driven a car with such a perfect power-to-weight ratio. The M1 is constructed from lightweight fiberglass and utilizes a tubular frame to save weight. The M1 continually reminds you that it does not take a lot of effort to move into another lane or blow by the car in front of you. The lightweight M1 has it all going on—it moves forward effortlessly, and the transmission is smooth, direct, and decisive. The steering is pinpoint accurate.
Driving slowly on backroads behind a Honda Accord, the M1 was comfortable lumbering along. Once we got alone into the twisty roads of bucolic Indian Hill, I was able to push the M1 closer to its limits. The mid-engine configuration gives the car an incredible sense of stability and control. Even rough pavement was a non-event because the car somehow manages to keep all four wheels fully planted on the road. The suspension treats each wheel as a crucial source of adhesion and the car never gives in to adverse road conditions. Despite being forty years old, this M1 was devoid of squeaks, rattles, and chatter.
On the highway, the M1's angular wedge shape creates noticeable downforce. Slapping through the gears, the M1 keeps biting pavement. Like an actual race car, at triple-digit speeds M1 feels more comfortable and competent than at slower speeds. This is a car that wants to run! There is no resistance from the motor as you push it and ask it for more — the chassis, engine, suspension, and steering all work together like a symphony in perfect harmonious balance.
Based on my experience, I believe the M1 is poised to emerge as one of the most significant early modern supercars of all time. This car should have a bright future in the collector marketplace. In the late 1970s, the M1 represented the vanguard of supercars. It is arguably the first genuinely legitimate mid-engined supercar of the modern era. Based on recent transactions, the M1 appears to be a supercar bargain. My experience taught me that this is not a car to keep in the garage under a soft cloth cover. Rather, the M1 should be uncorked often and liberally enjoyed. It is such a driveable machine and is at home cruising around town or pushing the outer limits of physics.
My biggest surprise about the M1? I am awestruck by its modernity and civility. It is a perfectly balanced lightweight machine that enjoys a unique look all its own. With less than 450 produced (forty years ago), you are guaranteed not to see another one—let alone have the chance to drive one! Thank you, Eric Keller and the team at EAG for offering me this unique opportunity. If only my Powerball tickets were the winning numbers, I would have driven the M1 straight back to Turtle Garage.
The last I checked, this incredible car is still for sale at EAG—so go ahead and give Eric a call!
Scroll down to watch the EAG video of the M1. It gives a comprehensive history of this rare investment-grade supercar. You can also view Top Gear's video review of the M1. Also below is a re-post of a Car and Driver article from 1981 that gives a comprehensive summary of the car. Written by legendary automobile journalist Csaba Csere in 1981, its an educated, real time, thoughtful, and well-written account of this extraordinary car.
1981 Car and Driver M1 Review
By Csaba Csere
When you drive around in a BMW M1, you'd better know everything there is to know about the car. At every stop you'll be besieged by open-mouthed car freaks, drawn like moths to a flame by the legendary Bavarian ultracar. The M1 is truly forbidden fruit. It was never officially exported to the U.S., and the total run was but 430 units. Even the semiclandestine specialty importer-certifiers haven't smuggled in many of them. So when Alan Hardy and Tom Schwartz drove up in one for us to test, we knew the Car and Driver staff's long years of collective clean living had finally paid off. Our M1 was dressed in virgin white and European trim, as yet unsullied by federal safety and emissions regulations. After our test, however, it would be deflowered by Hardy & Beck in Berkeley, California, then delivered to an eagerly waiting customer of Schwartz's BMW Store in Cincinnati, Ohio, for the sum of $115,000.
Even those who don't recognize the M1 know it is no ordinary chariot. It's as aggressive-looking as anything you're likely to see on the road, standing less than 45 inches high, spanning about 72 inches in width, and gripping the pavement with four squat Pirelli P7s set at the car's extreme flanks. Its basic shape is certainly attractive, but the overriding theme is function. The M1's body is an aerodynamically efficient envelope wrapped around the velocity-generating hardware and the requisite two-passenger space. It's executed in fiberglass to a remarkably high standard. There's nary a ripple or wave in any of the panels and they fit as though lasered from a single molding.
A similar theme is carried through to the interior. The basic design could be characterized as ultimate kit car: a flat instrument panel and basically simple shapes formed by several small pieces. While most kit-car interiors would shame J.C. Whitney himself, the BMW's insides are beautifully turned out. The dashboard, binnacle, console and door pockets are carefully fitted and upholstered in hand-stitched leather. The balance of the interior is finished in muted black-checked cloth and gray wool carpeting. Considering the extremely limited production run, this was a very sensible approach.
The driving position is surprisingly upright for such a low-slung car. Although your legs lie virtually parallel to the floor, and aimed inboard slightly to clear the wheel wells, your torso sits comfortably sedan-vertical. From this position, all of the controls are an easy reach, and visibility is excellent except for the rear quarters. Even the engine louvers, which are initially annoying, seem to fade into near transparency with time. The controls themselves are designed for easy operation rather than for visual affectation. A perfect example is the steering wheel. It's a classic three-spoke design with a thick, resilient rim and finger notches for good grip. But rather than a central horn button away from your grip, there's a thumb-accessible button in each spoke that you can use without compromising control of the wheel.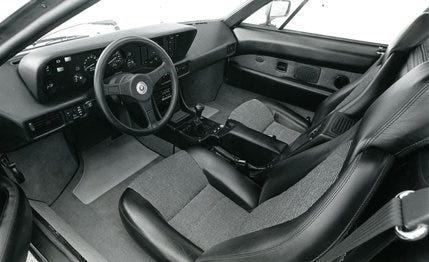 This carefully conceived control connects to the best steering we've ever encountered in a street car. It's very direct, suitably light, unaffected by speed (in sharp contrast to 911 Porsche steering), and volubly communicative about the intimate relationship between the front tires and pavement. There is some kickback, but it's a small price to pay for unadulterated steering information.
At higher speeds, the aerodynamics deserve some of the credit for this performance, for the M1 remains firmly, placidly pressed to the pavement. Not only is the lift minimal, but our coast-down tests indicate that the M1's aerodynamic drag is low as well. We measured but 7.5 hp required to overcome aerodynamic forces at 50 mph. The Ferrari Boxer, a car with almost identical frontal area, needs 10 hp, fully a third more, to push its less efficient shape through the air.
The ability to cleave the wind smoothly makes an engine's job a lot easier, but in the M1's case, this is just icing on an already rich cake. The M1 is propelled by a full-race 3.5-liter six, detuned for street use. But only the calibration was softened, not the hardware. The 24 valves, the chain-driven double-overhead cams, the dry-sump lubrication system, the crankshaft-triggered ignition system, the timed mechanical fuel injection feeding six individual throttles, and the tuned steel-tube headers, with the biggest pipes this side of a big-block Chevy, still remain. The net output from this primo machinery is 266 horsepower at 6500 rpm.
This is enough from the 211-cubic-inch straight six to rocket-sled the 3000-pound BMW to 60 mph in 5.4 seconds, to 100 mph in the next 8 seconds, and to 130 in only 26.3 seconds. The surge continues all the way to the redline in fifth gear, or 161 mph. These fiercesome exercises are accompanied by subdued, but genuine, race-tuned sound ef­fects. An intake moan dominates at lower revs, reaching a peak, along with the torque, at 5000 rpm, beyond which the exhaust's snarl takes over. Despite the heroic specific power output of 80 hp per liter, the M1 pow­erplant is totally happy at low speed, and is content to putter around without complaint. This domesticated race engine puts most street engines to shame in both output and temperament, although admittedly it is unconstrained by American emissions and fuel­-economy considerations.
A similar race-converted-to-street strategy was used for the M1's chassis. The basic un­derpinnings—unequal-length control arms, gas shocks, and anti-sway bars front and rear—were laid out for the Group 4, 470-hp, gumball-slick version of the car. When BMW's engineers made it streetable, they didn't have to worry about handling and sta­bility—they had it in spades. They could con­centrate on adding comfort and refinement.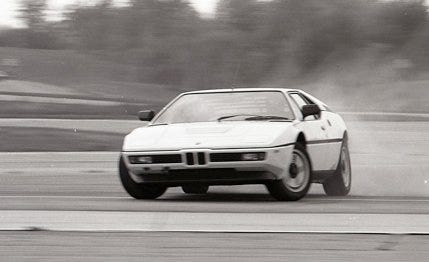 These efforts were unequivocally success­ful. The M1 handles as well as any street car we've driven. Its responses are immediate, direct, and without distortion. So effortless is its control that one can quickly assume that it has virtually no cornering limits. This is a mistake, as I discovered when I spun the M1 on a marble-infested entry ramp. The actual limit is 0.82 g. Certainly an excellent figure, but not as stellar as we expected. The limita­tion is probably the rubber. The M1 's Pirelli P7s are no larger than a 400-pound-lighter Porsche 911's. That the M1 outcorners said Porsche is a tribute to its suspension and su­perior chassis layout, but its cornering power could benefit from larger tires.
Larger rubber would increase unsprung weight, however, and might adversely affect the M1's excellent ride. It's firm, to be sure, but there's sufficient and supple travel to avoid the bottoming crashes and general harshness that plague most hypercars.
The M1's only real faults are niggling ones. The ZF transaxle, with its slightly skewed pattern, requires concentration and muscle to shift quickly. The same applies to the accelerator, which strains against the multifarious return springs and the mechani­cal friction inherent in a gang of six throttles. Combined with somewhat light brake effort, this makes heel-and-toe shifting a touchy proposition.
But these are mere trifles. The M1 is the absolute pinnacle of hyperfast street cars. Its overdoses of power and handling and responsiveness are suitably tempered by com­fortable accommodation and a civilized ride. If a gentled-down race car can be made this good, then all the other ultracar builders are going about it from the wrong end. —Csaba Csere